Four wheel roller skates are a type of roller skates. They are a kind of life and leisure gadgets. They are also competitive events. With its continuous improvement, a number of quad skate competitions have been formed. This article aims to provide a variety of skills on four wheel skates. Through this article, you can learn about the buying tips, playing tips, and product maintenance tips of four wheel roller skates in order to better develop this meaningful activity.
Buying Tips For Double-row Roller Skates
If you want to better develop the sport of skating, you must buy good products. The quad skates on the market are dazzling, the quality is uneven, and it takes some thought to buy high-quality and cost-effective products. Here we introduce the buying tips of four wheel roller skates to help consumers avoid minefields.
Firstly, when buying, pay attention to the quality of roller skates. First of all, the quality of the pulley is very important. To choose a polyester pulley with good toughness and elasticity, do not choose a plastic pulley, because the texture of plastic is not as comfortable as a polyester pulley. Secondly, the shaft is the heart of four wheel roller skates, so be sure to pay attention when buying. Quickly turn the wheels by hand when selecting, and the low noise is good, and the loud noise is inferior.
Secondly, the skating effect of the four wheel skates is also very important. Only the good use of quad skates can experience the fun brought by skating. The skating effect mainly depends on the angle design of the chassis structure and the design of the upper point of the shoe. Everyone should pay attention when buying.
Thirdly, you must choose the right shoe size when buying four wheel roller skates. There are two types of skates on the market that are adjustable and non-adjustable. Adjustable size prices will be more expensive. If you has a limited budget, you can choose non-adjustable sizes. Then be sure to buy the most appropriate size when buying, neither top leg nor big. Quad skates that are too big are not protective and too small are not good for foot health.
Finally, wearing comfort is the key to choosing four wheel skates. Comfortable shoes can protect the ankle and make the movement more flexible.
Four Wheel Roller Skates For Sale
Jiangmen Promise Sport have high quality four wheel roller skates for sale. They have been committed to the development and production of quad skates for many years and have rich experience. At the same time, every aspect of good quality is effectively guaranteed to ensure the quality of the product.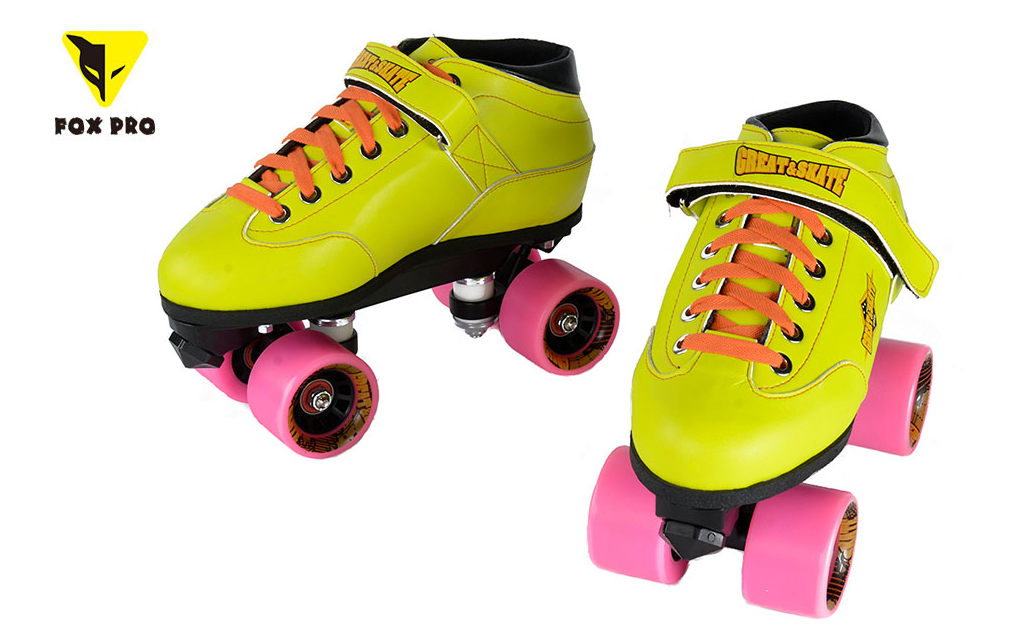 Parameters Of This High-quality Four Wheel Roller Skates
Type: derby skate
Brand: fox pro
Boot upper: pu leather upper
Boot outsole: rubber or leather
Bearing: ABEC-7/9/11 race bearings/ceramic bearings
Playing Tips For Double-row Roller Skates
I believe many people are novices in skating and do not understand the skills of this sport. Let's take a look at the tips of roller skating to help you better develop this sport.
First of all, it's easy to overlook the need to warm up before roller skating. However, warm-up exercises can help you stretch your bones and muscles, which is of great significance for improving the safety of skating.
Secondly, novices will inevitably wrestle when playing four wheel skating. You can find a place to help and slowly stand. Slowly hold on to the railing and adapt until you can walk without the railing! When you walk, don't need to be nervous, try to relax as much as possible. In about two days you can learn to slow and smooth.
Moreover, smoothness is the most basic of four wheel roller skates, and it must be balanced. When turning, turn left, lean your body to the left, shift your center of gravity to your left foot, then lift your right foot and place it on the left front of your left foot. You can practice turning by gliding for a distance with one foot.
The last is braking. Generally, the brakes of double-row four wheel skates are in the front, and the brakes are provided for reverse slip, so the brakes need to turn around. Method: Keep your left foot forward, turn your right foot forward and turn your toes backward, and your body will circle. When the whole body has turned half a circle, lift your left foot forward, so that your left toe is backward, then both feet are simultaneously Lift up and squat down to slow down.
Maintenance Tips For Four Wheel Roller Skates
Every product has its life span, and quad skates are no exception. I believe that every consumer wants the product they use to reach its maximum service life, which requires us to properly maintain the product. Let 's take a look at the maintenance tips of four wheel skates.
1. Take out the inner cover of the roller skates and wash them frequently to prevent deodorization and avoid breeding bacteria.
2. Avoiding gliding on rough roads can extend the life of wheels and bearings.
3. When the four wheel roller skates is not used, it should be stored in a dry place without direct sunlight. This has a certain effect on preventing rusting of parts and aging of products.